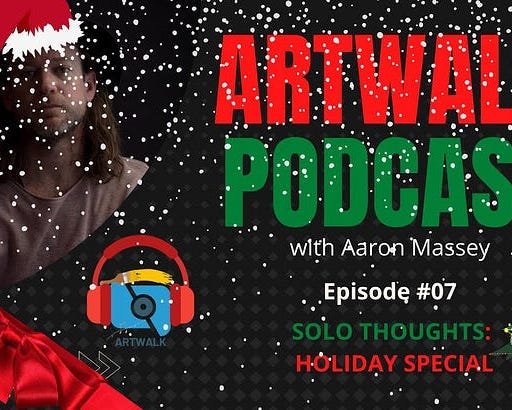 Dec 22, 2021 • 1HR 11M
ArtWalk Podcast: (Ep #07) Solo Thoughts: (Holiday Special)
3 Things I Am Changing In 2022
Aaron Massey hosts the ArtWalk podcast. An interview, and solo style show based around topics and artists within the creative community. Also listen to Aaron read his Wordplay writings. Recorded with music for an immersive listening experience.
LISTEN to this podcast by clicking the play button above.
WATCH this podcast on YOUTUBE below:
Also available to listen to on Spotify, iTunes, and Google Podcasts
---
SPECIAL ARTWALK NEWSLETTER OFFER: FREE AUDIBLE TRIAL:
---
ArtWalk Podcast (EP #07) Solo Thoughts: Holiday Special. Tis the Season! Welcome to the 1st ever Holiday Special of the ArtWalk Podcast. Aaron discusses three things he will be changing in the new year of 2022. And also four things that he is going to be doing as career goals and habits. A year in review of accomplishments, things that didn't work out, moving forward, and ultimately a time to separate for reflection.
FREE AUDIBLE TRIAL: https://amzn.to/3qMmCrJ
Twitter: @ArtWalkSubstack and @aaron_massey
Instagram: @Massive3
Welcome to the ArtWalk Podcast Episode #07, Solo Thoughts: Holiday Special (3 Things I'm Changing in 2022)
---
If you value this newsletter, please consider becoming a paid subscriber! This helps support my writing and time spent creating 5 Cool Things, Wordplay, and the ArtWalk Podcast. Paid subscribers are purely donation based. Thank you!