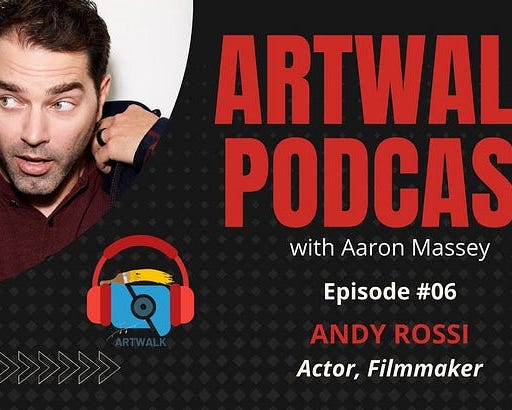 Dec 15, 2021 • 1HR 25M
ArtWalk Podcast: (Ep #06) Andy Rossi: (Dead Bodies and L.A. Stories)
Andy Rossi is an Actor, Writer, and Filmmaker
Aaron Massey hosts the ArtWalk podcast. An interview, and solo style show based around topics and artists within the creative community. Also listen to Aaron read his Wordplay writings. Recorded with music for an immersive listening experience.
LISTEN to this podcast by clicking the play button above.
WATCH this podcast on YOUTUBE below:
Also available to listen to on Spotify, iTunes, and Google Podcasts
---
SPECIAL ARTWALK NEWSLETTER OFFER: FREE AUDIBLE TRIAL:
---
ArtWalk Podcast (EP #06) Andy Rossi: Actor, Writer, and Director Andy Rossi talks shop with Aaron. Andy's directorial debut Dead Body has entered the '21-'22 film festival circuit and taken audiences by storm, winning several awards. Andy and Aaron get into all kinds of fun stories in this episode including moving west to Los Angeles, DJ'ing together, and eventually working as actors and filmmakers over the years.
Welcome to the ArtWalk Podcast Episode #06, Andy Rossi, Dead Bodies and L.A. Stories
---
DEAD BODY TRAILER:
Andy's Info:
---
If you value this newsletter, please consider becoming a paid subscriber! This helps support my writing and time spent creating 5 Cool Things, Wordplay, and the ArtWalk Podcast. Paid subscribers are purely donation based. Thank you!